REMEMBRANCE CEREMONY 11.11
Due to the Country now being in Lockdown 2 from Thursday 5 November, alternative arrangements for the 11.11 Remembrance Ceremony have been put together by the RBL, All Saints Church and the Town Council.
On Wednesday 11 November use the link below to enable you to watch a recorded Remembrance Ceremony, which includes the 2 minute silence.
If you start watching at 10.55am, for the silence to be at 11am
https://youtu.be/0l-r1JuO7Dw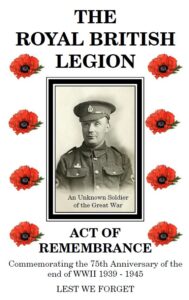 There is also a copy of the 2020 Remembrance Ceremony booklet (provided by Don Whinney), which you are able to download.