Coronavirus Advice
General Advice
OVID-19 Coronavirus Advice
With so much information being shared on the COVID-19 coronavirus we should all be using government advice to inform decisions and be checking that advice regularly. Please refer to https://www.nhs.uk/conditions/coronavirus for official guidance.
Please note that Parish and Town Councils are being guided by the National Association of Local Councils (NALC) who are engaging with government on the situation and will also keep us updated on any developments. The business of the Town Council is carrying on as usual at this time, however we are prepared for this to change.
If we are advised to cease public meetings, we will postpone meetings wherever possible and other meetings/weddings/events at Council-owned buildings may also need to be cancelled. In the meantime, we have carried out a specific risk assessment for coronavirus which is reviewed daily.
As a minimum, please ensure that you are following the Public Health England (PHE) recommendations for general cold and flu precautions to help prevent people from catching and spreading COVID-19:
cover your mouth and nose with a tissue or your sleeve (not your hands) when you cough or sneeze (follow the simple Catch it, Bin it, Kill it rule)
Put used tissues in the bin straight away
Wash your hands with soap and water often – use hand sanitiser gel if soap and water are not available.
Try to avoid close contact with people who are unwell
Clean and disinfect frequently touched objects and surfaces
Do not touch your eyes, nose or mouth if your hands are not clean
Those with a new persistent cough or high temperature are advised to self-isolate for seven days.
Those over-70 are advised not to go on cruises
International school trips are inadvisable
If you are worried about symptoms, please call NHS 111. Do not go directly to your GP or other healthcare environment.
People who have returned from Hubei Province, including Wuhan, Iran, Daegu or Cheongdo in the Republic of Korea, and any area within Italy under containment measures in the last 14 days should avoid attending work and going to meetings. They should call NHS 111 for advice and self-isolate.
As government advice is updated, we will reassess and communicate as soon as possible.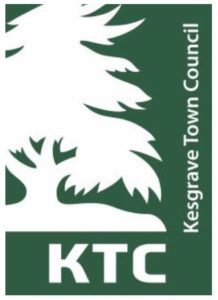 Kesgrave Town Council, Ferguson Way. Kesgrave IP5 2FZ.
Tel 01473 625179